999+ Ultimate ChatGPT Prompts For Assistant Work ✍️
Unlock all the hidden features of ChatGPT to save countless hours of all of your assistant-related work tasks.
180+ tasks you can use to save time

999+ prompts to use with ChatGPT

Copy & paste prompts with tips and tricks
Risk free 14-day money-back guarantee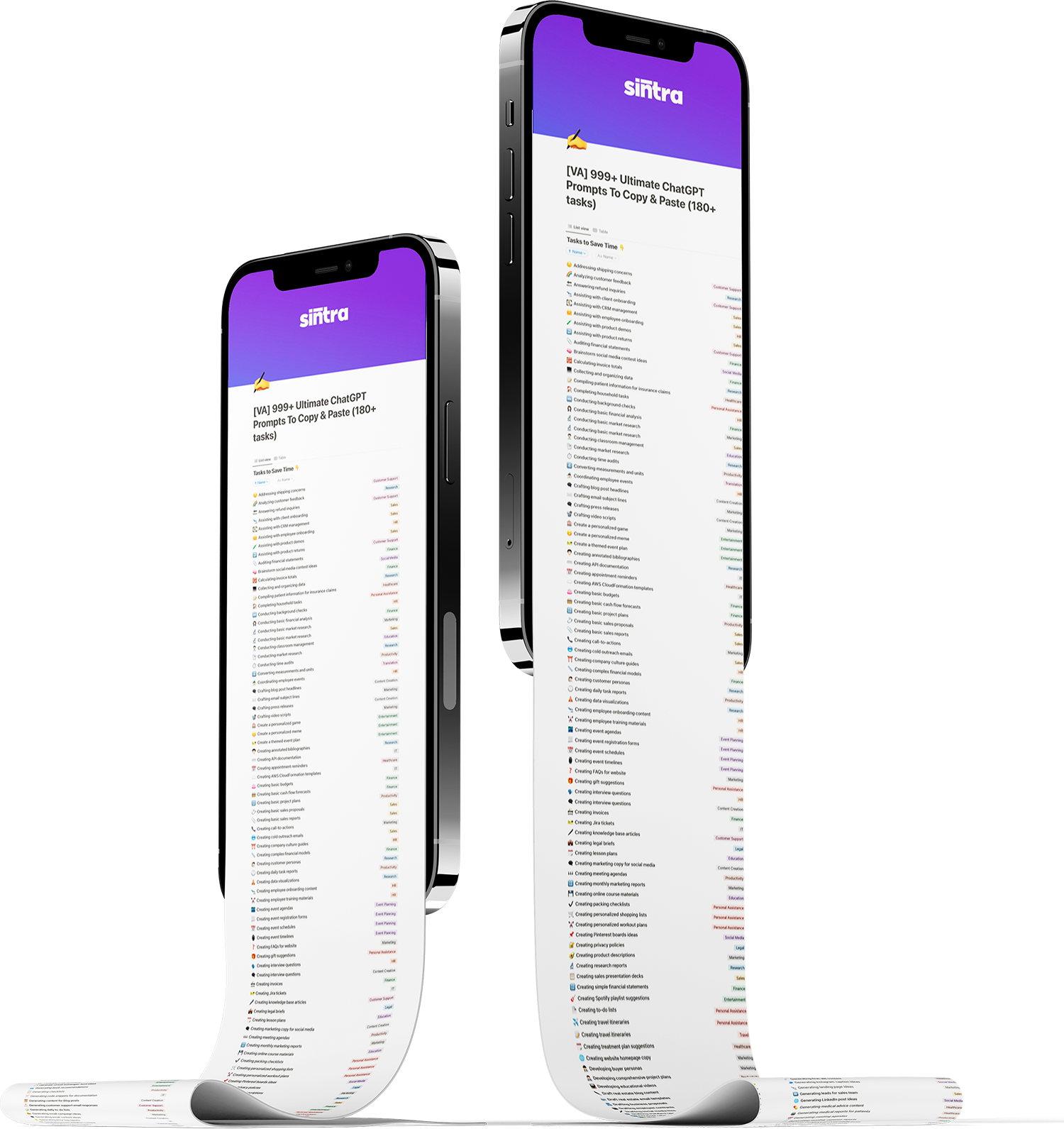 Here's a shocking statistic...
👆 This is how much time an assistant can unlock
per year by utilizing ChatGPT to its full potential...
AI will not replace you

❌
An assistant who is using AI will

✅
A shocking fact:

we've found that an average assistant is

utilizing only the 3.2%

of what's actually possible with ChatGPT 👇
👆 It's not your fault you get mediocre results.
You just don't know which prompts to use.


That's why you
need to know

exactly

which prompts and questions to use with ChatGPT for assistant-related work. 👇
🔑 This prompt pack is your
opportunity

to

unlock all the hidden features

of ChatGPT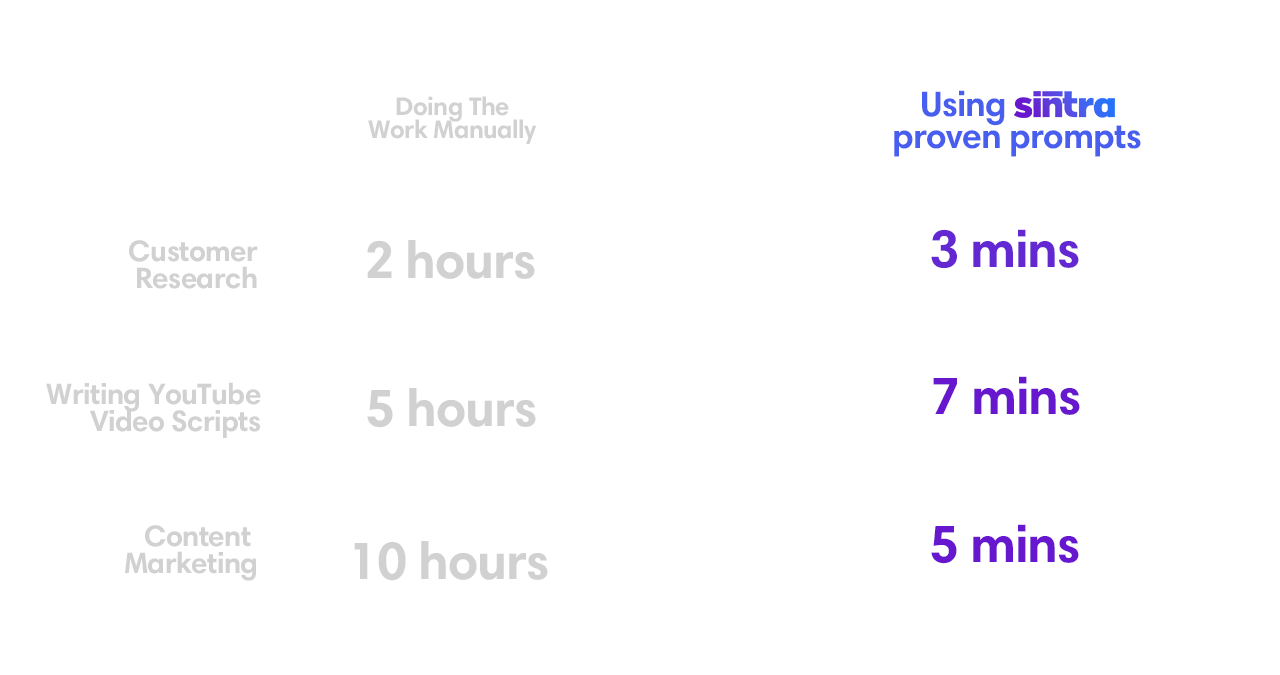 How everyone else does it:
❌ No idea what to ask ChatGPT
❌ Uses only 4% of ChatGPT potential
❌ Missing many great features
❌ Varied quality every time
❌ Mediocre output results
✅ Copy & paste exact proven prompts to ask ChatGPT
✅ Zero guesswork, easy actionable tasks for quick results
✅ ChatGPT outputs that produce great results & save countless hours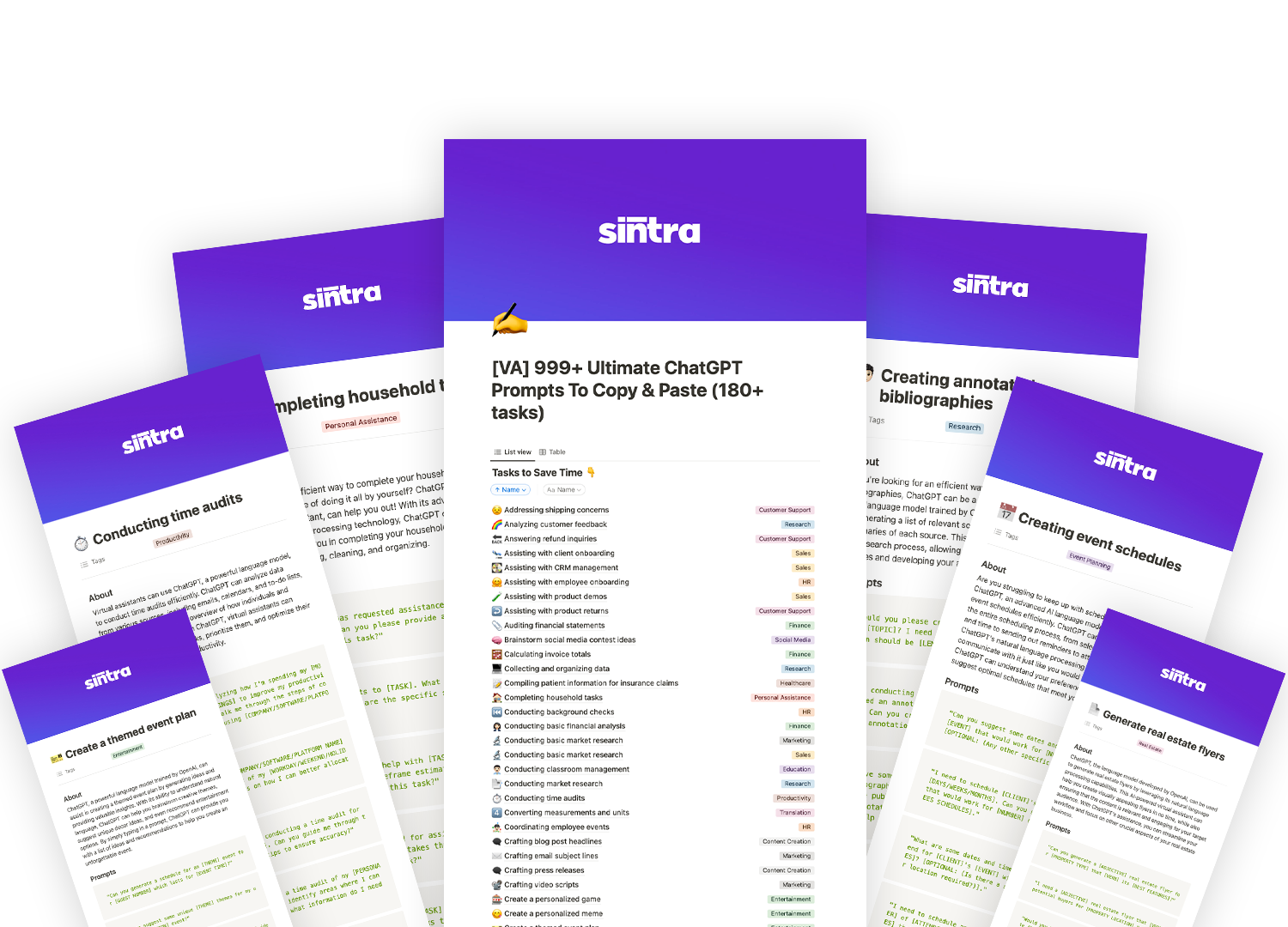 👆 Instead of guesswork, we can simply
copy and paste

these exact prompts.



⌛️ With this, we are able to save countless hours on manual work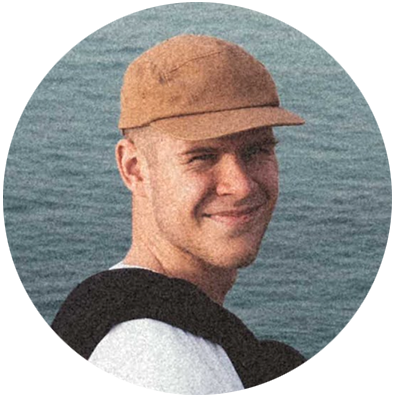 Hi – I'm Chris, the Founder of Sintra. I've worked with numerous global brands, and built marketing agencies that combined employ more than 60+ people in the eCommerce industry specifically.
Let's face it –– the rules of the game have changed for all assistants.
With the introduction of ChatGPT, assistants realized they could save tremendous time on mundane tasks... or so it seemed.
Yet, we've noticed that over 99% of assistants weren't utilizing ChatGPT properly. Most are failing to even ask it the right questions.
That's why we've spent countless hours testing, assembling and finding the best ChatGPT prompts for assistants. So that you can simply copy and paste the best prompts for your work.
We know that this checklist will save you tremendous amount of time to scale your work. It is our mission at Sintra to provide you with these tools.
This is just some of the work you'll be able to automate: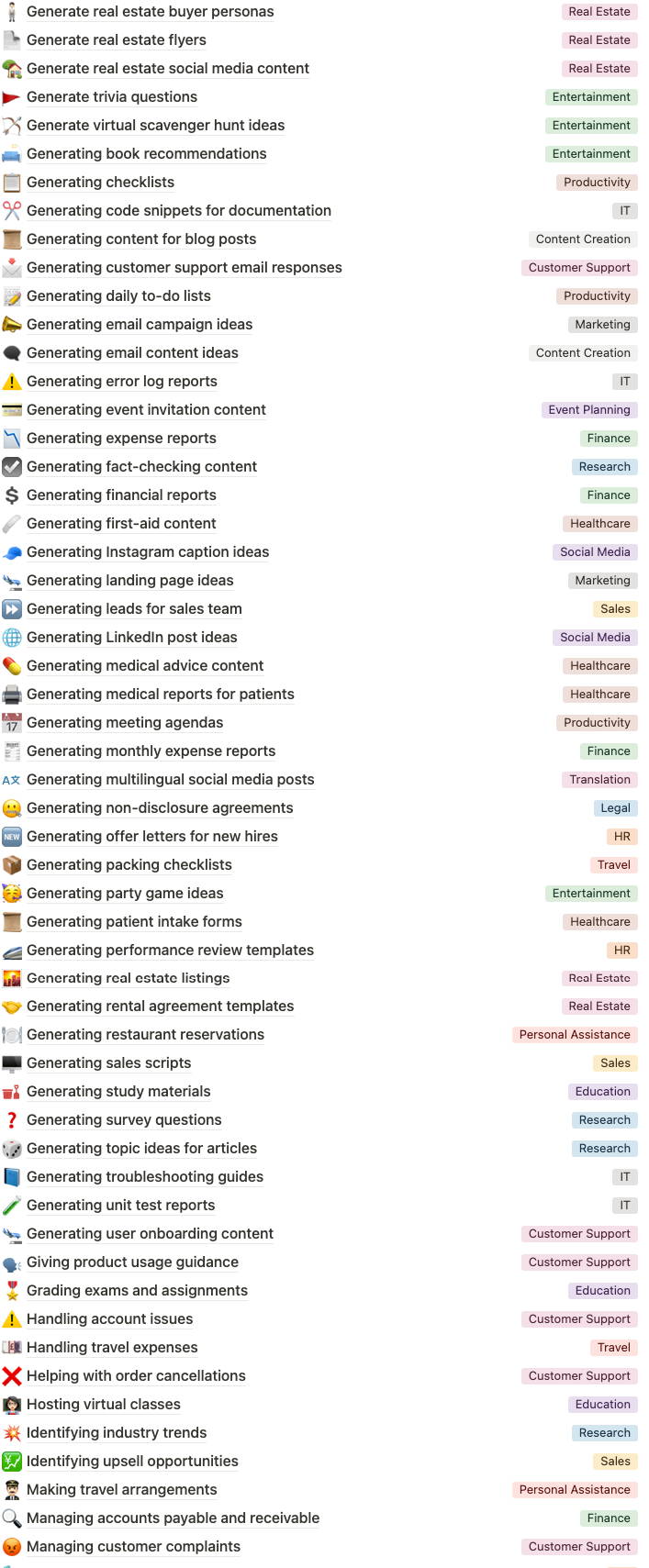 We've Built The #1 ChatGPT Prompt Pack for Assistants 👇
All of this should result in you saving much more time.

To master ChatGPT – the key lies in the details. You need to know the exact prompts to ask it.
To make life easier, we've put all the assistant-related tasks into a simple comprehensive prompt pack.

The list includes:
999+ copy & paste prompts with ChatGPT (lifetime updates!)

180+ areas to automate your work in your agency work

Tips & tricks to get better results with ChatGPT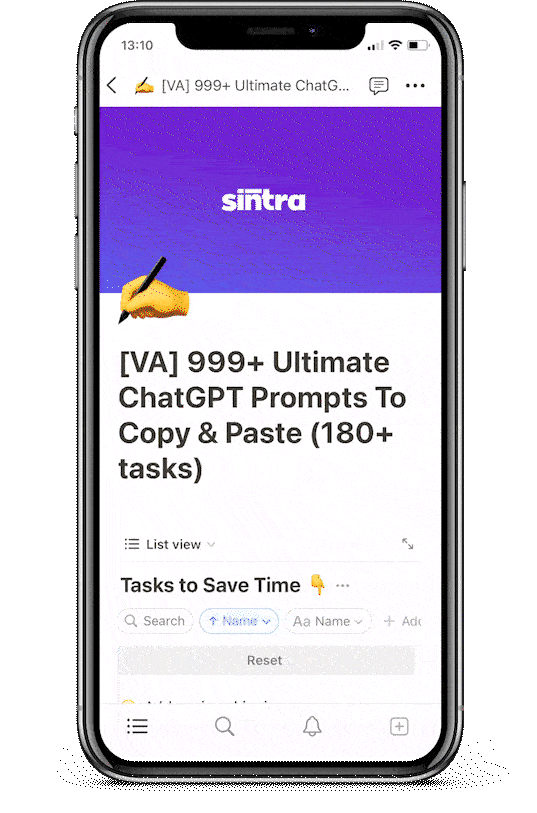 💰
Copy & paste prompts. Unlock ChatGPT fully.
Simply copy & paste these exact prompts and skip all the hard work.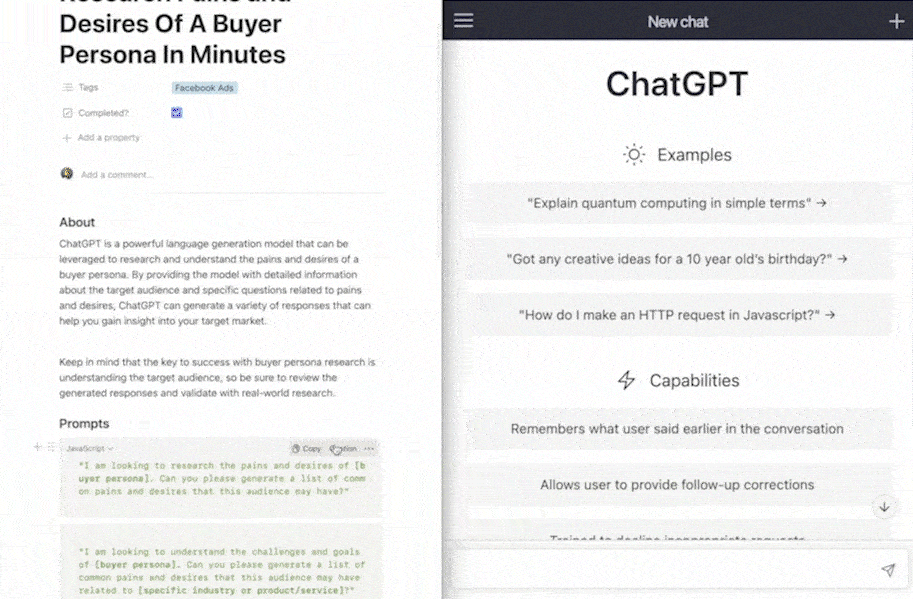 999+ copy and paste prompts for specific tasks

Tips & tricks for using ChatGPT to adjust results

Proven methods for getting great results
@davidkovger • Jan 24, 2023
Holy *% this is amazing! I've never been able to get great using ChatGPT – most of the time they were mediocre. Now however, it almost feels scary what I'm now able to do just by copying some of these prompts into my workflow. Killer prompt pack!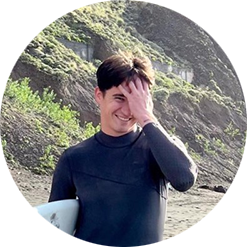 Email Marketer / $30M+ in Revenue
😡
Why most aren't able to get
great

results from ChatGPT
👉 ChatGPT needs
exact phrases

.

ChatGPT is a piece of smart code, not a human.
👉 It
takes time

to find quality prompts.

There's a lot of trial and error involved in finding prompts that generate good results.
👉 Just a single word
can ruin results

.

Even a slight wording change or punctuation changes output results.
99% of time assistants simply use the wrong prompts to get results from ChatGPT. Using the right inputs drastically increases output results.
@titasjurkonis • Jan 25, 2023
Tried ChatGPT but always got terrible results. Can't believe how doing just a few tweaks to my inputs can save me so much time. Using pre-made prompts was a complete game-changer for my productivity. Tried many ones, but Sintra is the place to go if you want the most comprehensive one that covers most disciplines.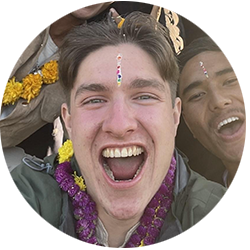 Co-Founder of Blazer Agency
🔥
Worried about
AI replacing you?
As more and more assistants will start using AI, the competition will grow even more intense. Assistants that do not know how to use AI will simply be outcompeted by those who do.
You need to find a way to use AI to your advantage.
We're entering a new digital age, where AI will replace most of the mundane tasks associated with assistant-work. AI won't replace humans, but humans that use AI will replace humans that do not.


What will separate a new-breed of assistants is the ability to use and exploit AI to your own advantage.
What can you do to
not fall behind

on the competition?
This is what the top 1% of assistants do instead 👇
The best assistants focus on freeing up their time in order to focus on providing more value to their clients, companies or agencies. You need time to create better ideas, and better creative work.
That's why you won't ever win against an agency using AI.
By outsourcing their mundane work to AI... the top assistants simply unlock more time to do more quality work. With this time, they can:

📚 Read timeless, valuable books
⭐️ Get deep into the minds of their clients
🎨 Dream up never before used strategies
The more time you'll outsource...
... the more time you'll have for creative work.
Smart assistants already know this. Most have started to delegate at least some part of their tasks to AI. However, the top 1% assistants know that's not the full picture:
It's not about simply using ChatGPT ❌ It's about becoming good at using ChatGPT ✅
👆 This is why it's not enough to simply use ChatGPT. If you want to get ahead, you need get good at it. You need to know exactly how and where to manipulate AI to get better results than your competitors.
That's why the biggest untold secret lies in knowing how to manipulate ChatGPT to your advantage...
@willsauciunas21 • Jan 28, 2023
The best part is that I've unlocked a lot more time to focus on creative work, which drives even more value for my clients. Tried other AI tools before but couldn't get it working right. Finally, I have a list of exact prompts I can use and get way better results.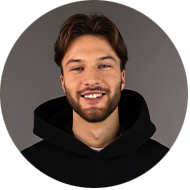 E-commerce Strategist & Media Buyer
Over 999+ ready-made copy & paste prompts to
shorten your work
to
just a few minutes
👇
Includes
180+ tasks

you'll be able to automate by simply using

specific ChatGPT prompts.
Generating meeting agendas
Managing team productivity and performance
Developing comprehensive project plans
Setting up productivity tools and software
Creating daily task reports
Offering basic productivity training
and 4 more tasks to automate
Managing customer complaints
Helping with order cancellations
Responding to warranty questions
Addressing shipping concerns
Answering refund inquiries
Providing troubleshooting guides
Resolving payment problems
Offering maintenance tips
and 11 more tasks to automate
Writing video game reviews
Generate conversation starters
Creating Spotify playlist suggestions
Generating party game ideas
Generating book recommendations
Generate virtual scavenger hunt ideas
and 8 more tasks to automate
Creating company culture guides
Creating employee onboarding content
Generating performance review templates
Creating employee training materials
Screening resumes for job openings
Creating interview questions
Drafting employee contracts
and 9 more tasks to automate
Generating study materials
Writing student evaluations
Developing educational videos
Creating online course materials
and 3 more tasks to automate
Generating topic ideas for articles
Writing literature reviews
Generating fact-checking content
Creating annotated bibliographies
Creating customer personas
Generating survey questions
Identifying industry trends
and 5 more tasks to automate
Generating LinkedIn post ideas
Creating Pinterest boards ideas
Generating Instagram caption ideas
Suggest best times to post on social media
Brainstorm social media contest ideas
Writing software documentation
Generating troubleshooting guides
Writing software documentation
Creating API documentation
Writing Git commit messages
and 5 more tasks to automate
Generating event invitation content
Creating event registration forms
Writing speaker introductions
and 2 more tasks to automate
Writing birthday greetings
Creating travel itineraries
Generating restaurant reservations
Creating personalized workout plans
Completing household tasks
Researching travel options
Providing meal recommendations
Making travel arrangements
and 5 more tasks to automate
Creating FAQs for website
Creating website homepage copy
Generating email campaign ideas
Writing website meta descriptions
Writing website testimonials
Drafting social media bios
Crafting email subject lines
Writing ad copy variations
and 10 more tasks to automate
Creating cold outreach emails
Writing product comparison content
Generating leads for sales team
Providing sales support to team
Creating sales presentation decks
and 10 more tasks to automate
Generating financial reports
Generating expense reports
Creating complex financial models
Creating basic cash flow forecasts
and 11 more tasks to automate
Generating email content ideas
Crafting blog post headlines
Generating content for blog posts
Creating marketing copy for social media
Creating interview questions
Generating multilingual social media posts
Translating text from one language to another
Writing multilingual customer support responses
Translating legal documents
Translating emails and messages
Converting measurements and units
and 3 more tasks to automate
Creating privacy policies
Writing cease and desist letters
Writing terms of service agreements
Generating non-disclosure agreements
Preparing legal templates
Writing legal disclaimers
and 4 more tasks to automate
Writing medical diagnosis summaries
Writing symptom checklists
Generating first-aid content
Creating treatment plan suggestions
Generating medical advice content
Generating patient intake forms
Creating appointment reminders
and 6 more tasks to automate
Generating real estate listings
Generating rental agreement templates
Writing investment property analysis reports
Writing property descriptions
Generate real estate flyers
Write real estate website content
and 7 more tasks to automate
Creating travel itineraries
Writing destination guides
Researching travel destinations
and 6 more tasks to automate
And this is just the tip of the iceberg. There's over 999+ copy & paste prompts you'll be able to use.
Get the #1 ChatGPT prompt pack for assistants

Use the vast task library to automate your work

Copy & paste the exact given prompts into ChatGPT

Overview the given tips to get even better results

Enjoy the countless hours saved on your work
Get The Ultimate Copy & Paste ChatGPT Assistant Pack Now 🔥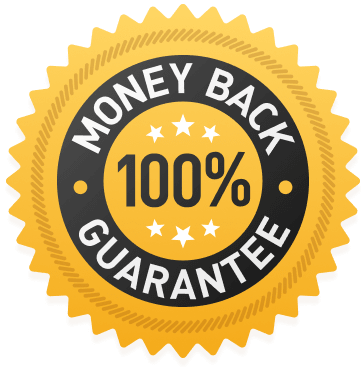 100% 14-Day Money Back Guarantee
We're so confident in our products, where If for whatever reason, you're not completely satisfied, you have the right to get a full 14-day refund – no questions asked.

Why pioneering assistants love the ChatGPT Assistant Pack ❤️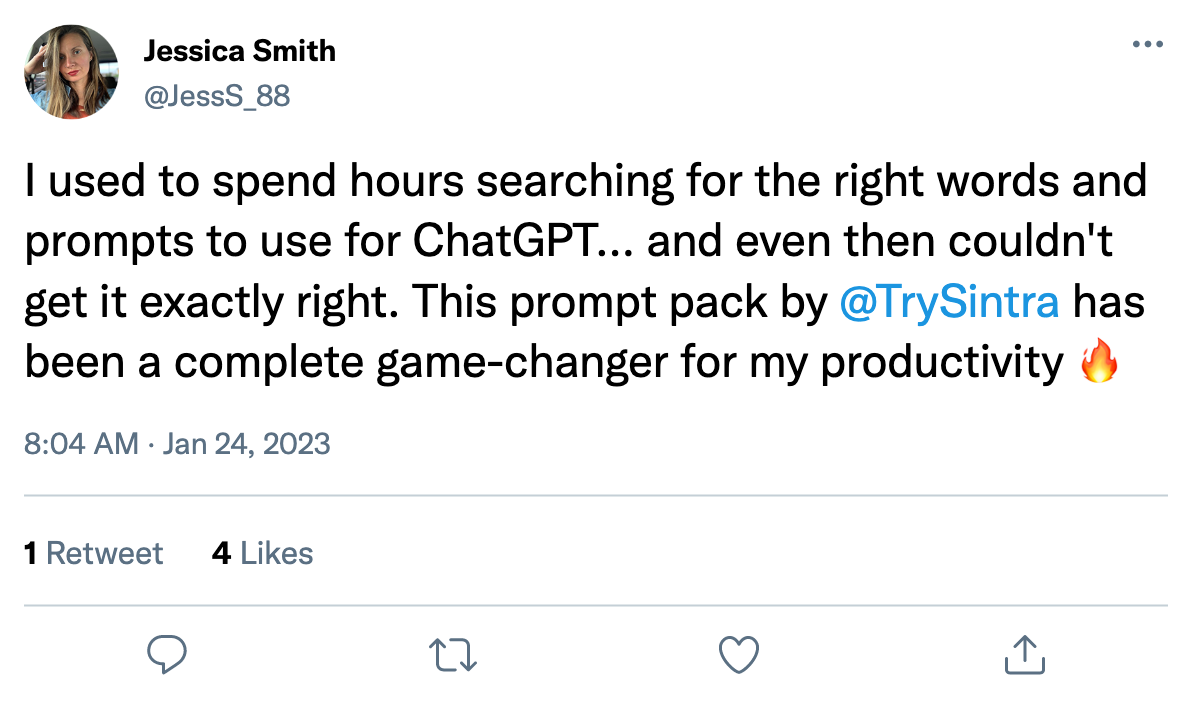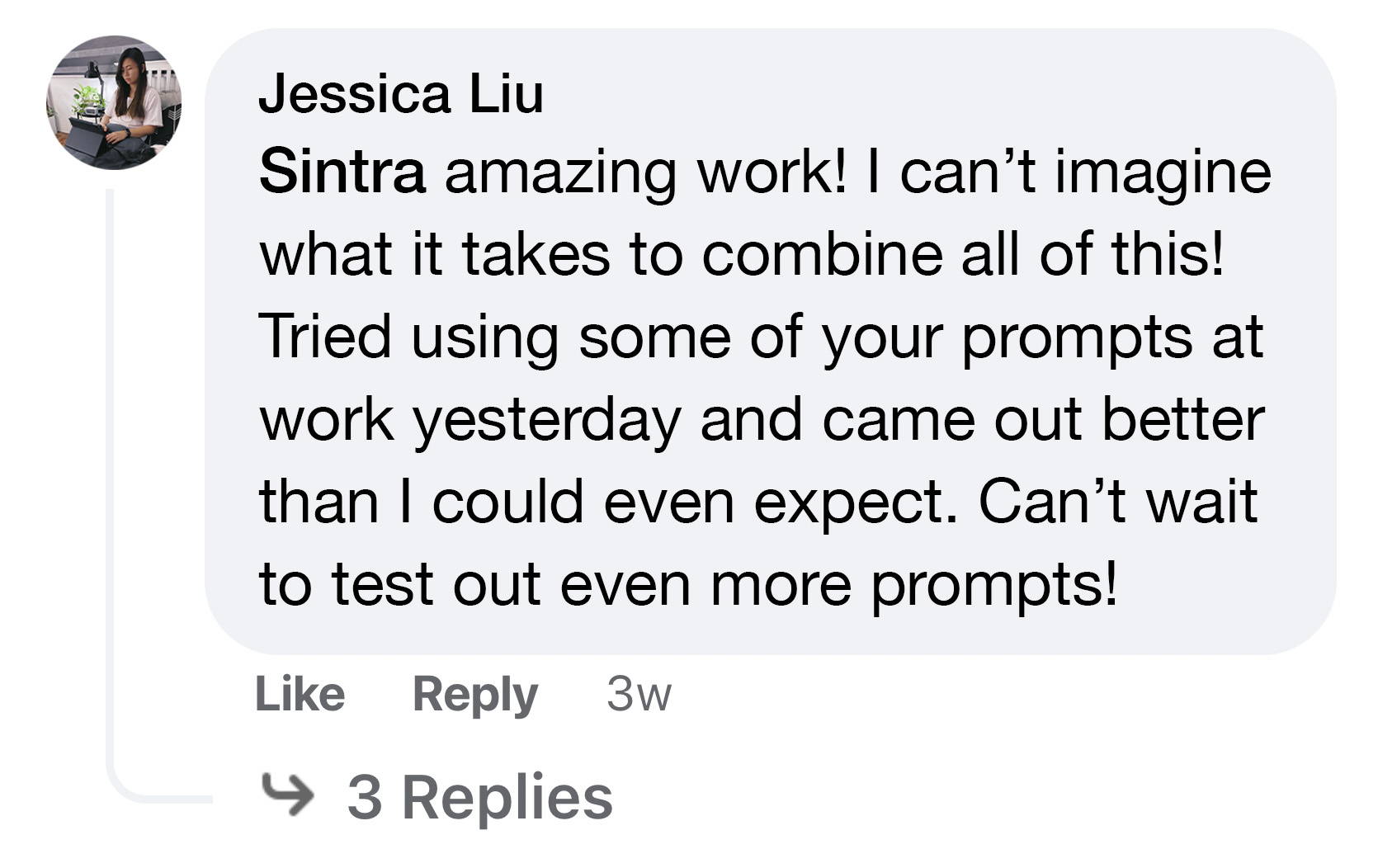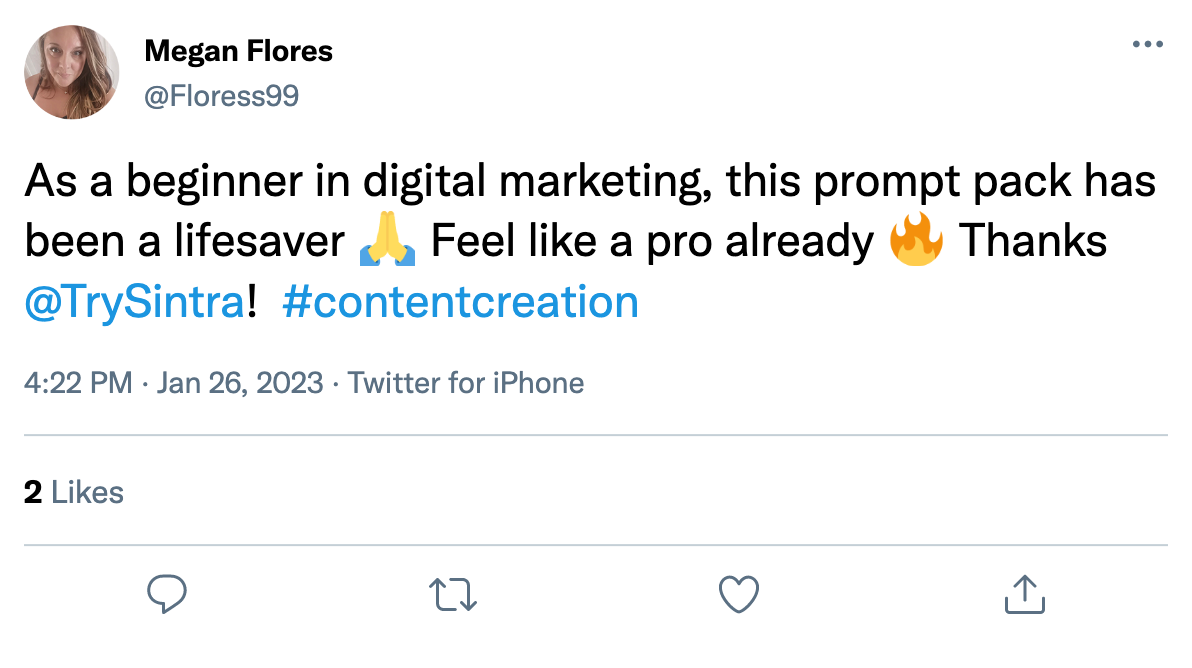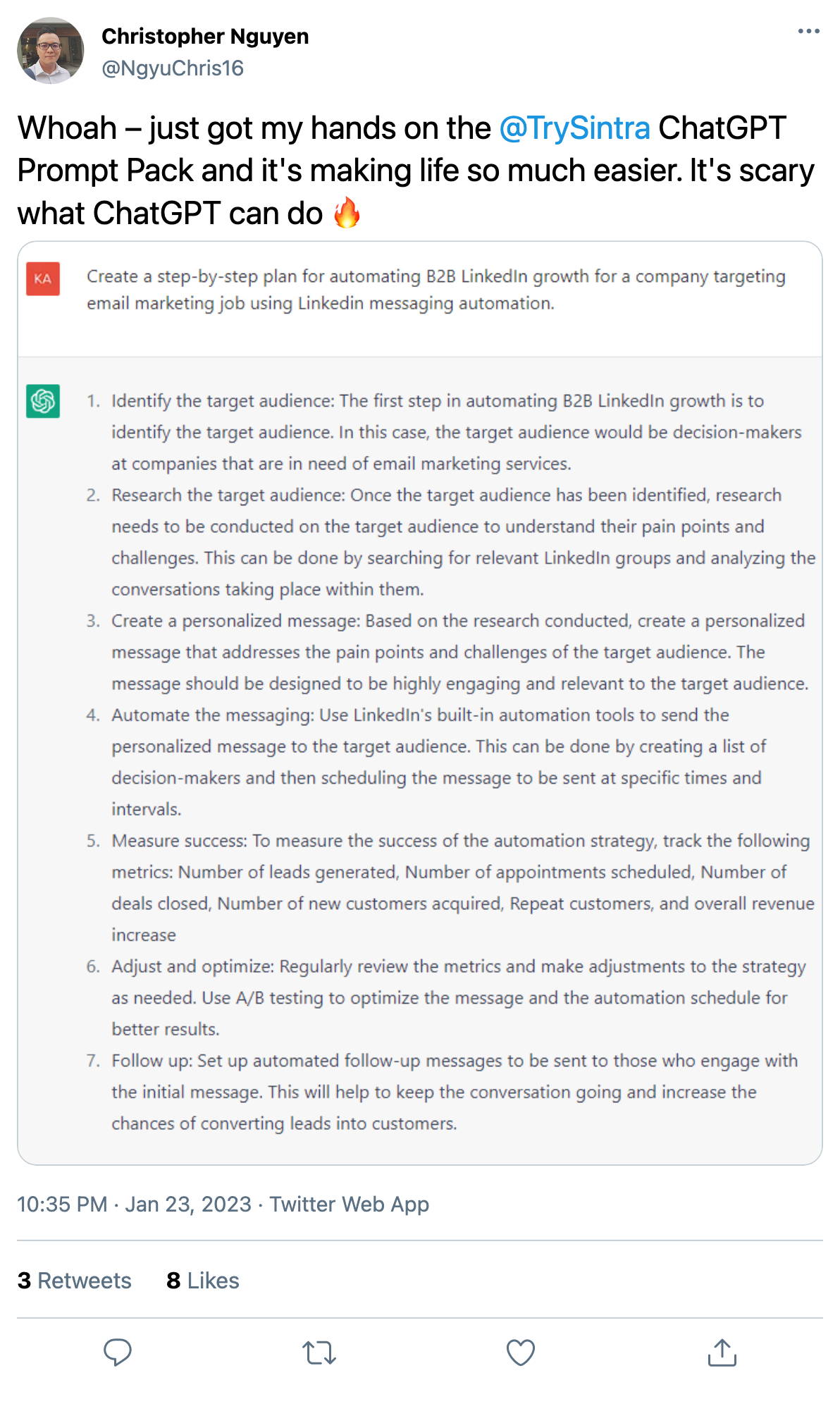 ChatGPT has been a game-changer for me, but this prompt pack just took it to the next level! The prompts are so comprehensive and easy to use 🔥 Thanks!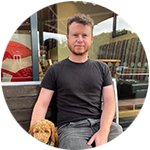 @ashleyzhang24 • Jan 25, 2023
I'm loving the variety of prompts in this pack! There's something for every type of marketing campaign. Tried other AI tools, but Sintra's Prompt Pack is one of the best investments I've made this year.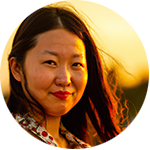 Marketing consultant for SaaS
@themartinez444 • Jan 22, 2023
As a brand owner, time is everything. I can't afford to waste it on endless brainstorming sessions and little tasks. This prompt pack has been a lifesaver! 💪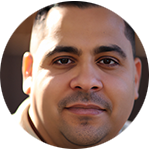 Why use pre-made prompts instead of manually typing questions into ChatGPT?
With prompts you can unlock never-before seen features of ChatGPT. Plus, using ready-made prompts can generate way better results. Even the slightest sentence change or wording change can change output results.
What tasks can I automate using ChatGPT?
Anything from managing customer complaints, creating travel itineraries, to resolving payment problems and managing team productivity. Our ChatGPT Assistant Pack includes over 180+ actionable tasks you can automate using ChatGPT. And it includes more than 999+ prompts to go with all of these tasks.
Who is this prompt pack for?
This prompt is made for all assistants looking to scale their impact exponentially through the power of AI tools such as ChatGPT.
How can I access the ChatGPT Assistant Prompt Pack?
Once you purchase the product, simply click the Download button and at the end of the form you'll be able to access the Notion doc. Alternatively, find an email with the subject "Important: Your order from Sintra is here" and the download link should be there.
There are so many other ChatGPT prompt packs. How is this different from all the other resources out there?
We haven't found any ChatGPT Prompt Pack for assistants which includes as many as 999+ prompts, and 180+ actionable tasks from 14 different disciplines. The Ultimate ChatGPT Assistant Prompt Pack also includes lifetime updates, which we're constantly improving.
I don't have the time to go through all of this. Why should I care about this?
Exactly! This is why we've distilled all the essential assistant prompts into one easy to follow pack. Instead of finding winning prompts, simply use our ready-made prompt templates to save time.
I've still got questions.
No worries! Feel free to chat us up at help@trysintra.com if you have any further questions – we're happy to help you out.